Follow us on Facebook
Support us on the Faversham & District Community Lottery
---
Faversham Town Council undertook a Transport Needs Survey during December 2022 and January 2023.
The survey highlighted a need for transport within Faversham and its immediate locality for access to vital services. It also found a need from some outlying villages, which had no bus service and where residents identified Faversham as their service centre.
The results of the survey led the Town Council to successfully bid for £60,000 of funding from Kent County Council to set up a community bus service. Faversham Community Transport will be a not-for-profit service run by Faversham Town Council with a strong social ethos to benefit the local community and will use volunteer drivers.
Whilst fares will be charged to ensure that the scheme is financially sustainable, the good news is that the service will accept concessionary bus passes.
Faversham Community Transport will provide a service in response to local needs on a fixed timetabled route using a minibus with 17 seats, with optional wheelchair accessibility,under a Section 22 permit. Areas already identified include Lower Road, Broomfield Road, Love Lane and ALDI. With the support of local parish councils, it aims to help residents in rural communities to access facilities within Faversham where traditional bus services have been reduced or cut. These areas have been identified as Oare, Newnham, Doddington and Lynsted.
The Town Council will initially organise, administer and promote the scheme, recruit and ensure volunteer drivers are trained. We are currently seeking volunteer drivers and would also like to speak to any local businesses interested in sponsoring the service. We hope to take to the road early in the new year!
Please contact Rob Gibbs, Assistant to the Town Clerk on 01795 503286 or email:
rob.gibbs@favershamtowncouncil.gov.uk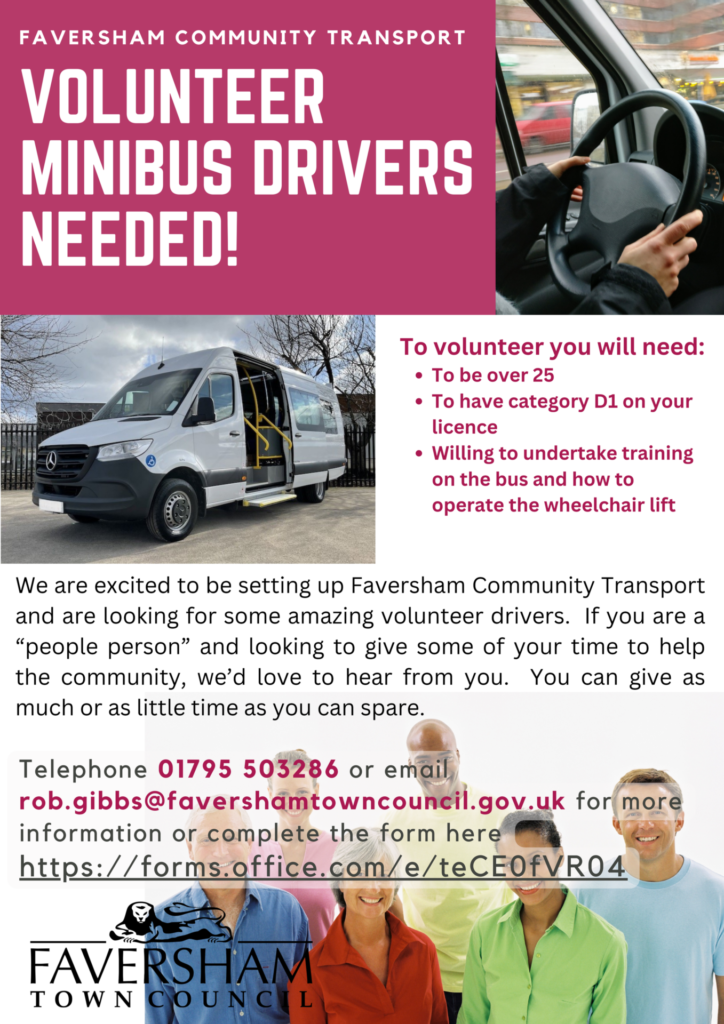 ---