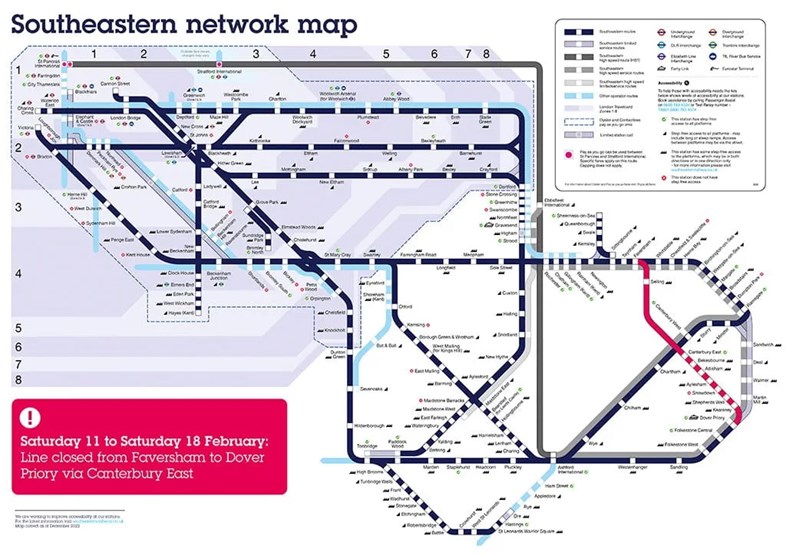 The line will be closed for landslip prevention work meaning no rail services between Faversham to Dover Priory for nine days over February half-term.

From Saturday 11 to Saturday 18 February, the line between Faversham and Dover Priory via Canterbury East will be closed. Services will resume in the morning on Sunday 19 February.

On Sunday 12 February, these trains will also not stop at Bromley South due to additional engineering work. Replacement buses will run between Beckenham Junction and Orpington via Bromley South.

Services will resume in the morning on Sunday 19 February.

Network Rail engineers are carrying out work as part of the £1.25bn South East Upgrade to help prevent landslips and reduce the risk of delays.

Rail replacement buses will run between:
Faversham and Dover Priory (calling at Canterbury East only).
Faversham and Canterbury East via Selling (minibus shuttle).
Canterbury East and Dover Priory (calling at all stations).

Rail replacement bus timetables can be downloaded via the links below:
Saturday 11 February
Sunday 12 February
Monday 13 – Friday 17 February
Saturday 18 February

Rail replacement maps for each station can be downloaded via the links below:
Adisham
Aylesham
Bekesbourne
Canterbury East
Dover Priory
Faversham
Kearsney
Selling
Shepherds Well
Snowdon

If you need to travel during the week of the closure, then please check the bus times and allow more time for your journey.

Improving our railway
What work is being done?
Network Rail engineers are carrying out a £3m project to stabilise cuttings and embankments along the line to help prevent landslips and delays. This is part of the wider £1.25bn South East Upgrade to improve the railway across East Sussex, Kent and South East London.

The work will involve removing thousands of tonnes of earth from sections of cuttings to reduce the steepness of the slopes leading down to the track, and installing rock netting to prevent rocks and earth from falling onto trains.

Cuttings are where the tracks are cut deep into hillsides, and embankments were conversely built to carry the tracks across valleys – reducing the gradients trains have to face on their journeys. The line opened in 1860 when civil engineers knew much less about how steep to make their slopes and what materials to build embankments from.

A 30-metre reinforced concrete wall will also be installed at the bottom of the cutting at Selling Tunnel – one of the most at-risk sites for landslips, which will help protect and keep the railway safe.

Sections of collapsed drainage will be completely rebuilt to stop flooding damaging the track and signalling equipment, which will minimise delays.

Alongside this work, stations along the line will be deep cleaned and refreshed.

What are the benefits of the work?
Reliability of the line will be improved as the reduced risk of landslips will help prevent speed restrictions and delays.

You can find out more on the Network Rail project page.

Online journey planners have been updated and can be found at www.southeasternrailway.co.uk and www.nationalrail.co.uk. Further information including FAQs can be found on our website at Faversham-to-Dover-Priory-line-closure.

Thank you for bearing with us while this essential improvement work is carried out.